Parish Weekly Newsletter | 10. 7. 2021
Thursday | October 7, 2021 | 11:52 AM
Annual Report
FY 2020 - 2021
An Annual Report Fiscal Year 2020 - 2021 has been mailed to your house. This report gives parts of the picture of what we have achieved in the past year and how we are striving for the years to come.
This report is also a Big Thank to all parishioners of St. Ann Parish. Thanks for your stewardship of Time, Talent, and Treasure. Thanks for everything you have done to strengthen our faith community here at St. Ann Parish.
Click the Picture below for electronic version of Annual Report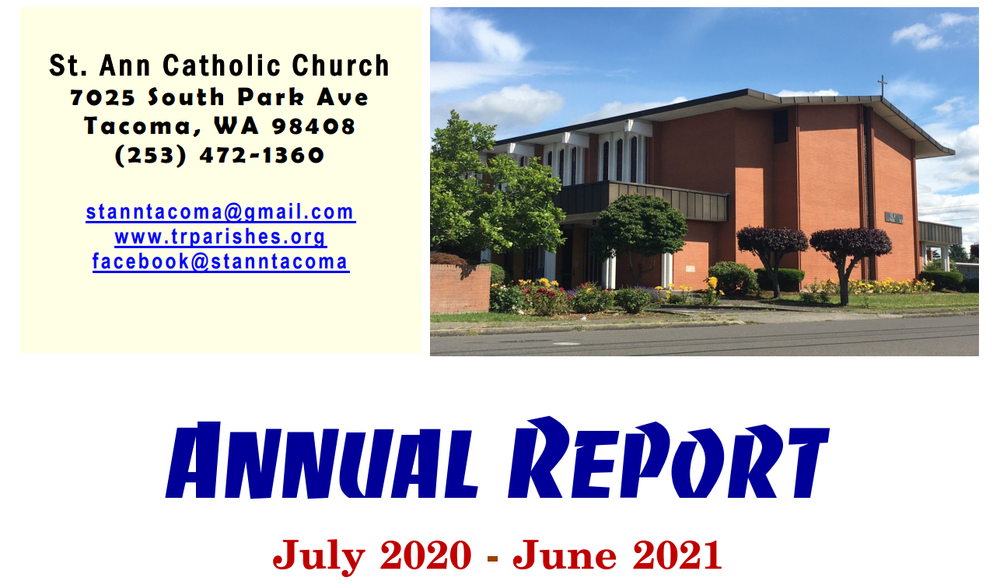 Stewardship of Treasure
Weekly Offering
Contributions for Weekend of Oct 3:
$8,063 148 envelopes
Online Giving: $1,924 (Sep 27 - Oct 4)
Vietnamese Fundraising Coffee & Breakfast: $1,048
Thank you for your continued support to the parish
Pray the Rosary for the peace in the world
At St. John of the Woods Saturday Oct 16 at 12pm
Questions: Call Mary Jane Patnode 253-226-8047 or Mary Cabrera 253-208-2462
Catechetical Certification Program
The Archdiocese of Seattle is offering a 6-to 8-month Catechetical Certification Program (CCP) for parish staff, volunteers, adult learners, and parents of homeschoolers. This program provides the foundation for knowing, living, and teaching our Catholic faith.
Carlos Carrillo, director of Faith Formation from Seattle is currently setting up the Catechetical Certification Program in our regional parishes. It will be conducted at St. Ann on Saturdays. Each class is 3 hours for a total of 7 classes.
The Formation/Training classes include watching and studying videos corresponding to the Tasks of Catechesis and Methodology, attending a retreat, observing and preparing for teaching classes. Participants will receive a Catechetical Certification Certificate after the completion of the program.
IN-PERSON Cohort for 2021-2022!
Saturdays, 9AM –12PM, at St. Ann Parish Hall, Tacoma. 1. October 23; 2. December 4; 3. January 22; 4. February 19; 5. March 26; 6. April 30 and 7. June 4.
This program provides the foundation for knowing, living, and teaching our Catholic faith.
Program cost is $75 per participant.
Class is open to all. Please sign up with Monty 253-304- 4473 or Click HERE to register online
To the chair of Finance Council of St. Ann Parish, Bob Richardson and your family, we send our deepest condolences on the loss of your mother.
May fond memories of your mother bring you comfort during this hard time. May the Lord welcome her into the Heavenly Kingdom and she is resting with the Resurrection of our Lord! Our prayers and thoughts are with you and your family.
Fri 10/8
Liturgy Meeting
7pm - on Zoom


Sat 10/9


Vovinam Martial Art Class - 9:30am - School
Regional Baptism Class - 9:30 am to 11 am - at St. Ann
Register with Sr. Theresa if needed

Sun 10/10
Viet Cafe & Deli - 8:30am - school lobby
Viet Faith Formation classes - 9:30am - school



Mon 10/11


Regional RCIA class - 6:30pm to 8:30pm - school
Yoga Class - 6pm - school


Tue 10/12
St. Vincent de Paul - 10am - 11:30am - in school



Wed 10/13


Veneration to St. Joseph with Benediction - 8am to 8:30am - Church
English Faith Formation classes - 6:30pm to 7:20pm - school


Thu 10/14
St. Vincent de Paul - 10am to 11:30am - school
Holy Hour - 4pm to 6pm - church

Sat 10/16
Vovinam Martial Art Class - 9:30am - School
Rosary Rally - 12pm - St. John of the Woods church
Liturgical Calendar
Oct 10 - Oct 16
Pastoral Plan Activities and Prayer
October 10
Please read the Gospel for this Sunday Mark 10:17-30.
In the Gospel Jesus calls the man to sell what he has and give all to the poor and then come and follow him. The man goes away sad. He is not able to give up all his wealth. Jesus sees that the wealth possesses the man and dominates his life. He seek to free him from slavery to his possessions. Our desire for money and possessions can dominate our lives.

Dialogue: How do you keep the desire for material possessions from dominating your life and your family? Are there ways you and your family share with others your time, talent, and treasure as a way of responding to the Lord's call in today's Gospel? What are your favorite charities? How do you invite your children to also share with them?

Activity: Bring a food item to church to share with others this Thanksgiving time. Buy a box of food bars and hand them out one by one to those begging at street corners. Talk with the family about how you might support your favorite charity.
Muriel Bate, Olivia Davis, Kathleen Genge, Wayne Haverkorn, Nancy Jones, Jackie Lane, Terry Mathern, Doris McGuire, Wesley McMakin, Helen Murray, Neagle Family, Donald Orris, Olivia Ripka, Bernadette Robinson, Rayanne Richardson, Valerie & Jerry Rochefort, Milla Schlatter, Eldon & Marge Weber, Joan & Woody Woodring, Virginia Wooten
We pray for all servicemen and servicewomen and their families.
We pray for all those around the world suffering from the coronavirus.
If anointing of the sick please call Sr. Anna at 253-592-2455.
St Ann Parish News
Read Parish Weekly Newsletter to stay updated with your parish... Read More
Subscribe