Parish Weekly Newsletter | May 20, 2021
Thursday | May 20, 2021 | 10:20 AM
Prepared by Communication Sub-Committee
Heavenly Father,
We thank you for gathering us together
and calling us to serve as your disciples.
You have charged us through Your Son, Jesus, and his shepherds,
with the great mission of evangelizing
and witnessing your love to the world.
Send your Holy Spirit to guide us as we discern Your will
for the spiritual renewal of our parish communities.
Give us strength, courage, and clear vision
as we use our gifts to serve You.
We entrust our parish families to the care of Mary, our Mother
and ask for her intercession and guidance as we strive to bear witness to the Gospel, celebrating the qualities of each faith filled community
and together building an engaging parish.
Amen
Contributions for Weekend of May 15th & 16th:
$5,792 (132 Envelopes)
Online Giving: $1,051.63
Special Donation:
Heating system: $200

Flower for Mother Mary: $225

Fence Project: $500
2021 - 2022 Annual Catholic Appeal
Begin May 2021 - End April 2022
Each year during the Annual Catholic Appeal campaign, we pause and consider all the great things that are accomplished in the name of Jesus!
This year our parish share of the Appeal is $42,190. We have raised a total of $11,475 so far towards our goal, and we have not yet heard from everybody.
If we exceed our goal, all payments above our share will come back to the parish in the form of a rebate to be used for building fence around Church facilities
Please be sure to turn in your pledge envelope today or donate online at http://ow.ly/lq3W50EtiIt .Thank you!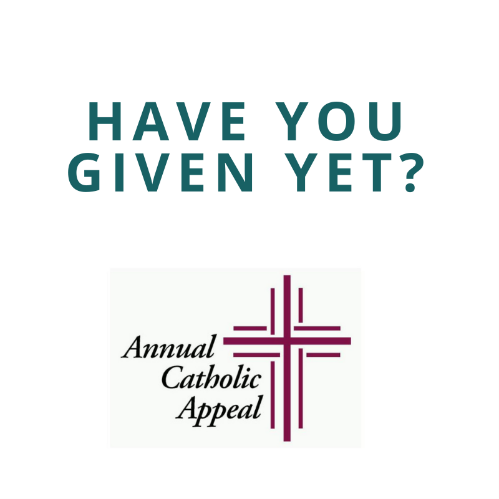 We pray for our Parish: that we may show love for one another in our support of the ministries and services funded by the Annual Catholic Appeal.

Please help to spread the words. Thank you
Enter on G Street & Exit on Park Avenue
Congratulations !! To all the children who received their First Communion next Wednesday May 26 with a special Mass here at St. Ann Parish
May Our Lord continue to bless them and their family
We welcome into our faith family those babies who are baptized at SA in May 2021:
Magdalena Cecilia Lohmeyer-Villega

Maria Camila Nguyen

Nalamarie Lanu Filiga

Phero Nguyen Quoc Khang

Rhea Theresa Hilldorfer

Theresa Tiffany Huynh
May God bless them with precious new life and bless the family on this special occasion.
Our Rel. Ed. Classes have drawn to a close for the 2020-2021 school year. What a challenging year with 5 adults and 26 first communion students. Three adults received Initiation Sacraments, one received Confirmation and one received a Full Communion. There are also 26 first communion students from St. Ann and St. John of the Woods.
We wish to thank LB Gilmer and her team for organizing and teaching RCIA this year through google meet.
We thank communion teachers and helpers at St. Ann's: Louis Matej, Richard McMakin, Gloria Montes, Joleane Reece and Don McMakin.
We thank Re. Ed. Teachers and helpers at SJOW: Twyla Halmrast, David Kopchynski, Cindy and Gary Amogela and Dee Dawson.
Thank you Monty, Brenda and Nancy for adult catechist class and Bible class.
Thank you very much for giving your time and talents. You are good stewards and great examples in our parishes. We hope you all return next year.
We thank you Fr. Tuan Nguyen, pastor and Fr. Pat McDermott for your tremendous help and support.
Muriel Bate, Martha Borja, Miyoko Fine, Kathleen Genge, Ed Glass, Wayne Haverkorn, Nancy Jones, Jackie Lane, Terry Mathern, Doris McGuire, Wesley McMakin, Helen Murray, Neagle Family, Donald Orris, Bernadette Robinson, Valerie & Jerry Rochefort, Milla Schlatter, Eldon & Marge Weber, Joan & Woody Woodring, Virginia Wooten.
We pray for all servicemen and servicewomen and their families.
We pray for all those around the world suffering from the coronavirus.
If anointing of the sick please call Sr. Anna at 253-592-2455.
St Ann Parish News
Read Parish Weekly Newsletter to stay updated with your parish... Read More
Subscribe