Parish Weekly Newsletter | May 27, 2021
Thursday | May 27, 2021 | 09:34 AM
14 students who received First Comm
at St. Ann on May 26, 2021
Arenas, Alejandra

Arenas, Jacqueline

Arenas, Jazmin Sonali

Chen, Joseph Tran

Dinh, Tracy Tien

Gutierrez Espino, Angel

Gutierrez-Espino, Perla Maria

Lemus Barriga, Camila

Martinez Melchor, Diana Maria

Munoz, Arianna

Perez-Arce, Melina Esmeralda

Perry, Keenan James

Tran, Christina

Tran, Monica Thien Y
Contributions for Weekend of May 22 & 23:
$5,275 (122 Envelopes)
Online Giving: $586.63
Special Donation:
2021 - 2022 Annual Catholic Appeal
Begin May 2021 - End April 2022
This year our parish share of the Appeal is $42,190. We have raised a total of $21,806 (pledge) so far towards our goal.
If we exceed our goal, all payments above our share will come back to the parish in the form of a rebate to be used for building fence around Church facilities
To all those who have returned there Annual Catholic Appeal pledge card sent to them by the Archdioceses. Your generosity is appreciated and will help so many in the dioceses
Please be sure to turn in your pledge envelope today or donate online at http://ow.ly/lq3W50EtiIt .Thank you!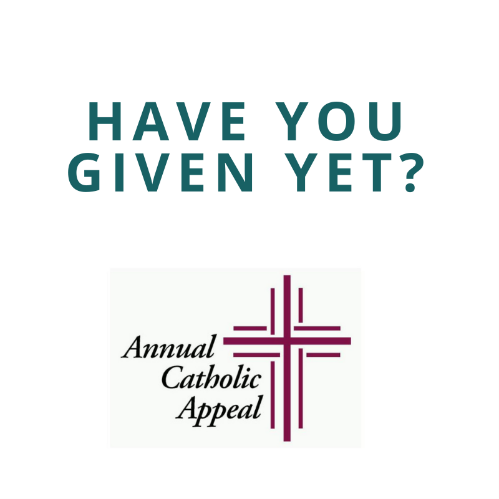 We pray for the Church, that through our generous support of the Annual Catholic Appeal, and the ministries and services it upholds, we will renew the face of the earth.
Corpus Christi
Concluding Year of the Eucharist
You are cordially invited to join your fellow parishioners in celebrating Corpus Christi on Sunday June 6, 2021 at St. Ann Parish
Mass at 9:45am, followed by a solemn procession of the Eucharist
Fresh Food Distribution at 9am Saturday May 29 (St. Ann Parking Lot)

To those who received Dose 1 Covid Vaccine @ St. Ann Clinic, please return on next Tuesday June 1 to receive Dose 2 (in accordance with your appointment time)

St. Vincent de Paul Food Bank at SA Opens on Tuesdays and Thursdays From 10:00AM to 11:45AM. Please contact: Richard McMakin or Louis Matej at (253) 468-9841

SVDP is in current need of toilet paper, tooth paste, tooth brush, cereal, canned fruit, chili, juice, pasta, pasta sauce, pork & beans, top ramen, rice, rice a roni, tuna, tuna helper, peanut butter, rice, cup of soup, canned soup, macaroni & cheese, spam, stew, box scalloped potatoes, canned vegetables, any kind of desserts
Please do not donate expired dated food items, we cannot accept these at SVDP. Thank you.

Our Parish office will be closed Monday May 31st in observance of Memorial Day
Muriel Bate, Martha Borja, Miyoko Fine, Kathleen Genge, Ed Glass, Wayne Haverkorn, Nancy Jones, Jackie Lane, Terry Mathern, Doris McGuire, Wesley McMakin, Helen Murray, Neagle Family, Donald Orris, Bernadette Robinson, Valerie & Jerry Rochefort, Milla Schlatter, Eldon & Marge Weber, Joan & Woody Woodring, Virginia Wooten.
We pray for all servicemen and servicewomen and their families.
We pray for all those around the world suffering from the coronavirus.
If anointing of the sick please call Sr. Anna at 253-592-2455.
St Ann Parish News
Read Parish Weekly Newsletter to stay updated with your parish... Read More
Subscribe